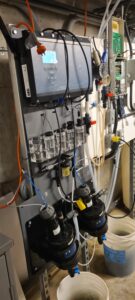 Pool controllers manufactured by Process Pools have started to be installed in Edmonton and Calgary, Alberta CA. Process Pools' pool and spa partner in Western Canada, Automated Aquatics, has started to install Process Pools' AutoPool®4.0 controller in Aquatics Centres in Canada.
Mike Riding, during a recent trip to Canada to meet with Automated Aquatics said, "We are really pleased to be able to partner with such a talented team such as Automated Aquatics in Western Canada. We are already planning enhancements to the AutoPool® range of pool controllers used based on Automated Aquatics' expertise".
John Duiker of Automated Aquatics said of the AutoPool® controller, "It's interesting to find such a capable controller that once installed delivers exceptional pool chemical control with consequently a much better bather experience. We are looking forward to a long and beneficial relationship with Process Pools here in Western Canada".
For more information on Process Pools' range of pool controllers please contact Process Pools via the website.