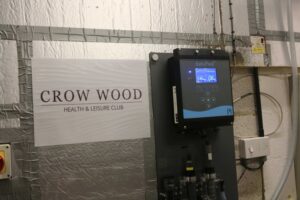 The Crow Wood Hotel and Spa Resort in Burnley have received international acclaim for four consecutive years after winning the Global Luxury Day Spa at the 2022 World Luxury Spa & Restaurant Awards. The resort is expanding its facilities and has continued to choose Process Pools pool controllers to control its 10 Pools and Spas.
Crow Wood's decision to go with the AutoPool® for a further 6 upgrades and 2 more in planning is due to a superior product and that Crow Wood's operators have found that working with Pi's excellent service team for so many years has been easy, fast, and reliable, offering impeccable after-sales support.
The AutoPool® controller itself is a great improvement over its predecessor, the AquaSense, with its simple and intuitive operator interface and its world leading controls. Crow Wood's management team was heavily influenced by this and the following advancements when making their decision to upgrade their controllers:
Remote access – Industry-leading web applications for remote support and for data storage and compliance reporting
VSD control based on bather load and chlorine levels – much smarter control and huge energy-saving potential
For 15 years, Pi has been continuously developing their pool controllers, and are proud to continue to provide their local customer, Crow Wood Leisure, with their pool dosing control for their multiple pools and spas. With the latest pool controller upgrades to their newest line of pool controllers, the Autopool®, Pi's clients will continue to enjoy perfectly balanced, crystal-clear water well into the future.
Pi is thrilled to be involved in the success the resort has seen and hopes to continue to contribute towards its success in the future.
If you would like to learn more about Process Pools and the Autopool® please visit www.processpools.com